Welcome to our Blog. In this space you will find writings that explore the idea of Dwelling and ways of building and living with an ecological consciousness. Here we try to challenge the conventional limits and horizons of architecture.
In our Ecological Design Practice we often mention that the greenest architecture is that which is not built at all. While we grapple with this contradictory aspect of our work, we try to make sense of the interconnected web of life and how we might help our clients and communities forge a deeper understanding of their place in this world. We hope this leads to transformational change and positive contributions towards the health of the natural systems we are a part of.
We hope to create a space where you feel comfortable to explore these topics with us and welcome your comments and contributions towards this dialogue.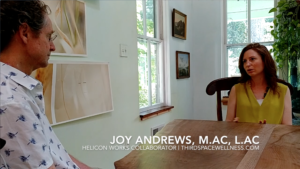 The interest in wellness is infiltrating all industries now, including design. The move towards green and more sustainable ways of living is at the heart of Helicon Works' Ecological Design Practice. As our work with Dwelling has evolved, we've expanded our collaborative to include Joy Andrews, M.Ac, L.Ac in our work with clients.
Read More

→